What we learned in 2015
ShirtCycle stepped out from behind the development curtain this year. From presenting at FashInvest, winning StrategyHack and speaking at conferences on subscriptions; we carved out our niche as the only custom shirt subscription with a personal stylist.
But like a suddenly popular kid in school, we didn't know exactly who we were. Sometimes this is best answered by confirming what you're not. We aren't fashionistas, we don't read TechCrunch every morning.
We're two guys from Indiana and Houston that bet on ourselves. And by partnering, we could solve a problem one of us faced; saving time and looking better while working a lot of hours. Here is what we learned:
1) Look in the mirror. Only looking in the mirror and shining a light on yourself / business assumptions is going to lead you to create something special.
Specifically, we realized that fit is personal, and only by putting a shirt on someones back can you verify the fit.
Online custom wasn't really online given the offline measurement requirement. So we rebuilt our process without measuring.
Members are better than customers. This is really just human behavior, instead of being a salesman guessing which clients are high "ROI"… return on time investment. We see it as by opting into our subscription, out clients are saying "prove you can do what you say and I'll get all my shirts from you.
Less friction lowers cost. By verifying the fit upfront, simplifying the process and removing the need for returns by only sending shirts in a fit, fabric and style our clients want, we stumbled into higher margins, which allowed us to lower our price.
2) Trust your gut. We left finance to work for ourselves, not someone else. We're always listening to input but having been on the investor side. If you give someone $1, and need a 10x VC return, then you need $10. You can grow 10x (sales) or raise prices 10x (margin). To us, this means risking our value proposition to our clients, something we won't do.
We've learned the best way to grow is through existing clients. If there was a silver bullet that you could wisely spend your way to 10x growth, we'd all know it. You can grow your valuation 10x without growing 10x, but time fundraising is time not spent on clients and we enjoy thinking about growing our business more than fundraising.
3) Create value creatively. Alright, so we wanted to figure out how to increase our profit per box. I know, were do we get all these business savvy ideas?
So we launched a Black Label of higher end Thomas Mason fabrics, holding margin but increasing profit due to the higher price point. That's easy, not creative.
So we set about expanding our box and discovered that ties and socks are a rip off! Let's put it this way, most high end ties are over 90% margin. So we found the factories that supplied these ties (9 months and over 40 factories later), lowered the margin and curated them along with socks to match our custom shirts.
This is how we created Sets. Sets allows us to give our clients seamless style and one less thing to think about every morning. While increasing profit per box because more items included. We get to provide more value to our clients… amazing quality accessories at a great price curated into a time saving solution.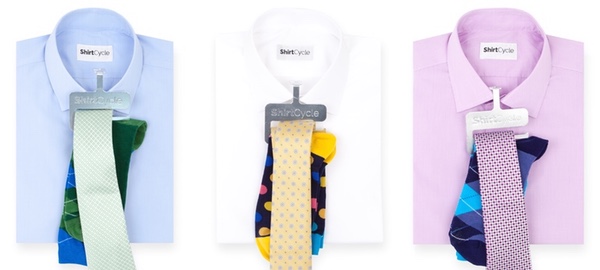 4) Be yourself. We're trying to make our ShirtCycle brand more about us. So startup lessons we've learned, style tips and guidance on building your wardrobe. Despite what marketing agencies want us to believe, brands are not people. I am not friends with Wendy's. I just go there late night when home with my Indiana buddies trying to relive high school. Now the fact that there is a "Son Of Baconator" kinda proves my marketing agency point.
Brands are created by people in a light they want themselves to be seen. I believe competitor Ledbury does a great job of this as being seen as southern is a top priority of most southerners I meet in NYC.
So what are we? We're guys that took a risk, got humbled and learned how to reinvent our business as a subscription. We're passionate about solving a problem we faced that a lot of guys share… not having a lot of time or style sense but working in a client facing industry. Anything we learned along the way is the story we have to tell.
This is not a manifesto. Its my opinion in grammar optional form. Gage