Simple spring style = add color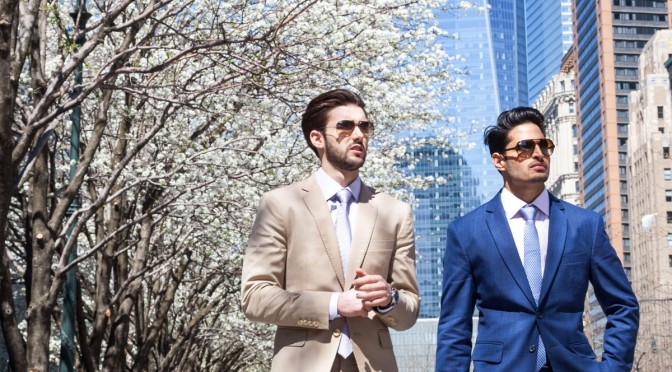 From Pancakes to Gatorade, most anything with just add water for instructions does well. I mean, c'mon, we're only human.
For guys, this simply means adding a little color to their wardrobe in order to transition it from winter to spring. Menswear style often centers on shirt, suit and tie combinations and the cut or how tapered or custom your clothes are. Most guys miss seasons.
It's like managing a pitching rotation, yes you want to use all your pitchers or suits, but knowing the mix is key. When spring comes, signal you're aware with lighter grey's over charcoal. Lighter blues over Navy. And even a tan suit signals spring is here.
Channel your former Vineyard Vine frat style to get pastels back in the mix. Now light pink, purple or yellow shirts have an excuse, a small one, but one nonetheless. When it's 70 degrees and you're going charcoal suit with burgundy tie, that's a winter combo.
Here, white toned shirts, light colored suits and pastelish ties mix for a perfect spring look. Oh and don't forget to unbutton your jacket when sitting, don't let these NBA post games fool you.