Despite winning fifteen Emmy's during it's seven season run, AMC's Mad Men will probably be remembered best for it's on-point styles. As the final season comes to a close, I wanted to highlight some of the most notable looks throughout the show and talk about how you can incorporate each one into your wardrobe.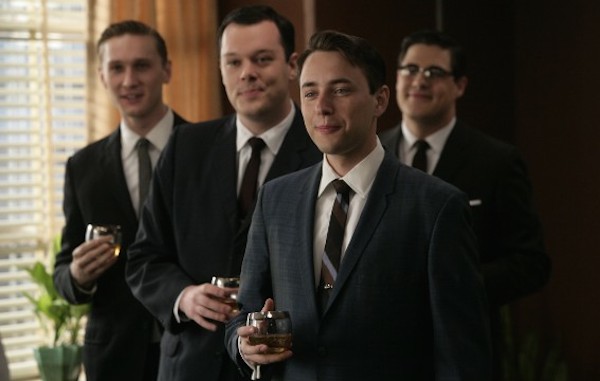 Everything about this suit style, from the fit to the colors to the accessories, reads professionalism. Slim, tailored cuts started to appear after World War II to complement the athletic build of soldiers returning from war, but in reality, anyone can benefit from a tailored look regardless of his body type. Loose, baggy suits make smaller men look like they're drowning in their outfits and larger men look heavier than they actually are.
As far as color, nothing looks more professional than a dark navy suit and white shirt. Contrasted with a dark tie, you'll look like a CEO regardless of your position. Finally, pay attention to accessories, which should never be the focal point of your outfit, but should pull your outfit together. Limit yourself to one, at most two, accessories per outfit, like either a tie bar (as shown here), interesting cuff links, or a pocket square.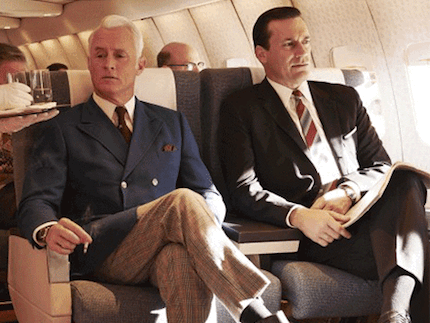 This image from the later seasons shows the characters branching out from the more traditional styles by adding color. While Don adds a splash of color with the bright tie, Sterling stands out with the navy double-breasted jacket, plaid pants, and chelsea boots. It's a bold look that not everyone can pull off and might not be acceptable for every workplace, but when done right, it allows you to stand out and make a bold statement. Your double-breasted blazer should always be in a dark, muted color, preferably navy. And while it's possible to pair the jacket with matching pants as a suit, go with a lighter patterned pants to contrast with the navy jacket. Solid colors like grey or tan offer a clean simple look, while more complex patterns like the plaid shown above offer a bold look. Your shirt and tie shouldn't compete for attention. A white shirt with a solid color tie work best.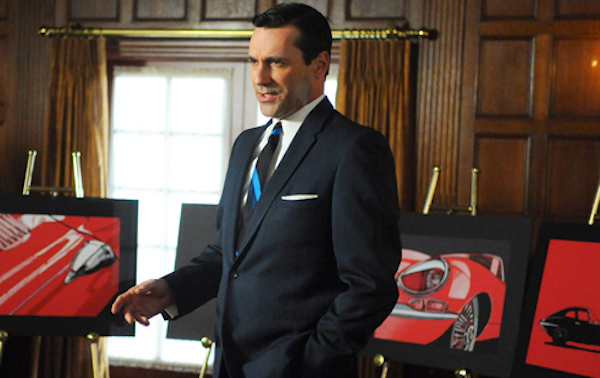 With this suit, Don Draper radiates power and masculinity. The navy departs from the traditional black just enough to give the suit some character without coming off as unprofessional. And while a tie that's too bold or loud can be off-putting, a simple pattern like a solid stripe as shown above adds just enough flair to be interesting. As far as the details, a pocket square adds class, but for a formal setting like the office, go with a flat fold like the picture above. Always leave the second button of your jacket unbuttoned, and make sure your shirt cuffs are showing by no more or less than half an inch.
If Mad Men showed us anything its how versatile a plain white shirt could be. Today, not only can you wear it with a miriad of work outfits, but it also transitions seamlessly to an evening shirt. A white, button-down shirt is like a blank canvas: it can be transformed into any number of looks. So whether you're pitching a billion dollar deal or getting drinks with friends, consider a white shirt a necessity.